This week, the Center is excited to welcome back

Ensemble Linea

for a residency which will include a concert of new works (

April 6

) and a graduate composer workshop (

April 8

).
Linea have been frequent guests of the Center since their first appearance at June in Buffalo 2011, at which they made a big impact with strong performances of David Felder's Partial [Dist]res[s]toration and Gerard Grisey's Talea. Linea returned to the festival two years later (

JiB 2013

), and performed an exciting program which featured Brian Ferneyhough's Mnemosyne and Tristan Murial's Treize Couleurs du Soleil Couchant. The program concluded with Rokh I, a new work by Raphaël Cendo, a composer with whom the ensemble has closely collaborated on numerous occasions (video of this performance can be seen below):
Linea have had many productive, collaborative relationships with both established and emerging composers. Cendo is currently composing a piano concerto for the ensemble, and they have premiered and commissioned works by the likes of Klaus Huber, Ivo Malec, Younghi Pagh-Paan, and Michael Jarrell. They recently began regularly programming the music of Peter Ëotvös, and have performed nearly all of his catalogue, including the 2008 premiere of his Octet Plus. Linea recently premiered (and recorded) Brian Ferneyhough's Chronos Aion, and are looking forward to upcoming collaborations with Philippe Manoury, James Clarke, and Center artistic director,

David Felder

.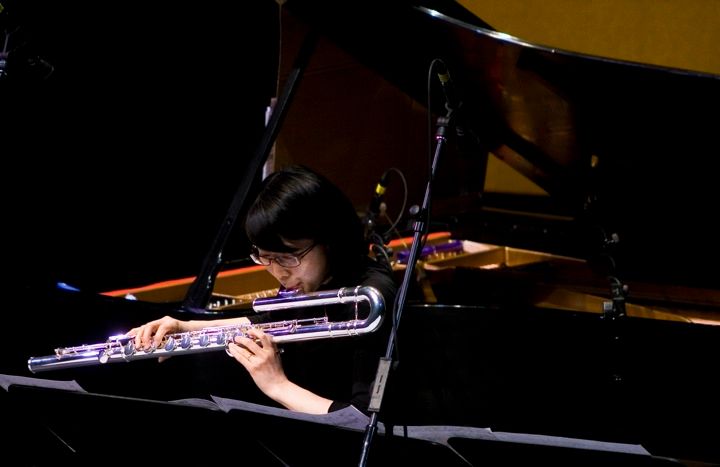 Linea's Keiko Murakami performs Mnemosyne at JiB 2013
As an internationally-recognized ensemble, Linea have regularly been featured at festivals around the world. Currently on their third tour of the US, they have played a significant role in the "development of cultural exchanges between France and the US", and through their programming have become a "global ambassador of French music". Their April 6th concert will feature music by three French composers: Aurélien Dumont, Frédéric Durieux, and Pascal Dusapin. Dusapin (recently featured in the

NY Times

) is known for a Xenakis-like combination of complex, intellectual composition and a more primal mythos. Linea trombonist Thierry Spiesser will present the composer's solo trombone work, Indeed, which features 'micro-glissandi' and uses a pixie/plunger mute combination to produce bright, spectrally-dense multiphonics. From Durieux, Linea will perform Etudes en alternance I, II, III, which consists of three short movements of dynamic, high-energy gestures which demand a significant level of skill and agility on the part of the ensemble:
In addition, the program will feature chamber works by Valerio Sannicandro and Marco Momi. To begin the concert, the ensemble will present Brazilian composer Michelle Agnes Magalhaes' prepared piano solo, Mobile, which will be performed by Linea's Claudia Chan. The work combines quiet sections focusing on subtle color changes like those the titular sculptures, with more active, deliberately-clumsy mechanical sections. Composed for the Cage centenary in 2012, the work is an intriguing update to Cage's approach to the instrument.
To conclude their residency, Linea will present a workshop with UB graduate composers, which will feature performances of works by Roberto Azaretto, Matt Chamberlain,
Weijun Chen,
Meredith Gilna,
Daniel
Gostelow, Brien Henderson,
Nathan Kelly,
Su Lee, and
Igor Marques
. Through their participation at June in Buffalo and other festivals, Linea have cultivated a reputation for helping young composers realize their ideas effectively. The high level of proficiency they demonstrate both as individual players and as an ensemble provide a great avenue for composers to test out new musical ideas. We can't wait to hear what our composers have in store, and how Linea will help realize these new works!